The Coronavirus Helping & Hiring Community on Upstream
The last few weeks have been stressful on a global scale. With the impact of Coronavirus on the economy — people already looking for work…

The last few weeks have been stressful on a global scale. With the impact of Coronavirus on the economy — people already looking for work or recently laid off need more help than ever. The next step for everyone, is to come together and help however they can.
For the past few months, we've been working on a new company called Upstream. We planned on staying under the wraps while in beta, until the Summer of 2020. But when this global pandemic began to snowball, we decided we had try to help.
Upstream, at its core, is a professional groups product focused around giving and getting help. Positioned a bit like a Discord or Slack but built specifically for Professional Groups. The first community has been a beta testers group of founders and investors in the tech sector with ~800 members. One of the most popular use cases is helping people get jobs. We've seen many people find talent and get hired. So we've decided to create a new community exclusively focused on people looking for a job and employers looking to hire.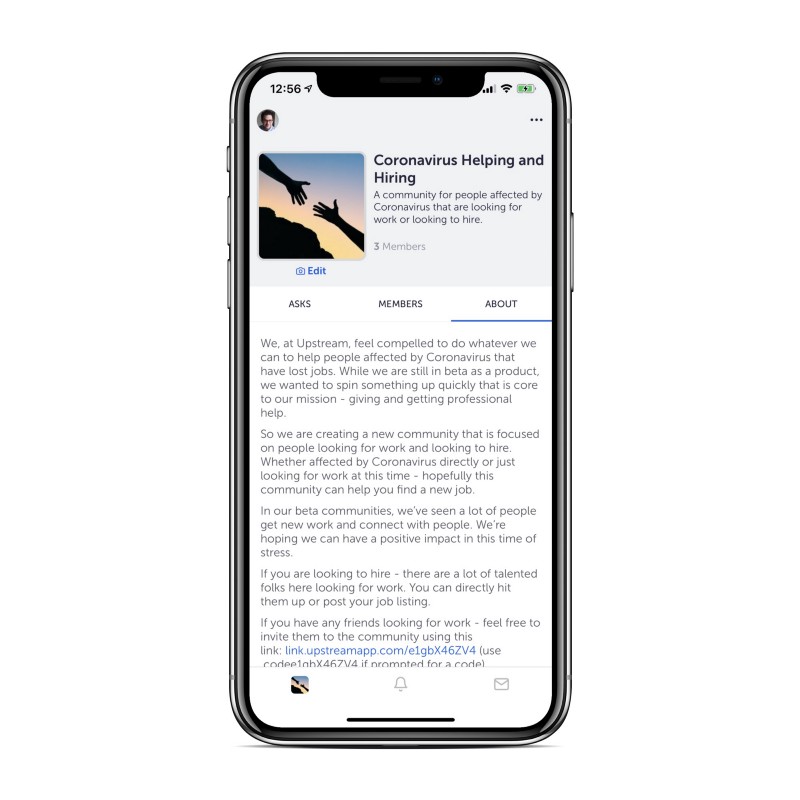 It's called the Coronavirus Helping and Hiring Community and you can join it with this link and code: https://link.upstreamapp.com/e1gbX46ZV4 (use code e1gbX46ZV4 if prompted).
While Upstream is only available for iPhones at the moment, we're working hard to release an Android version. We expect it to be released within the next couple of weeks. (If you don't have an iPhone, we'll be happy to post on your behalf until then. Reach out to [email protected]).
There are two parts to every community: Asks and Members.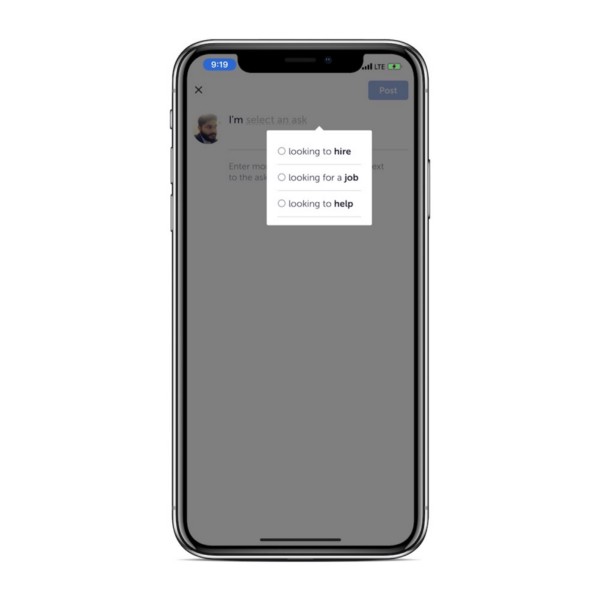 Asks are Professional Asks that conform to some predefined format. In this community, we have 3 types you can choose from: I'm looking to hire, I'm looking for a job, and I'm looking to help.
After choosing an Ask type, you're prompted to add some context (e.g. link to job description, some more info about yourself, etc). Then tap Post and your Ask will go into the feed. You can also use the search bar, above the Asks, to dig back on older Asks.
The other tab is the Members tab. This shows you who is in the community and is searchable by Name, Company, Title, and Location.
For this those in the beta and know the platform a bit, in this community, we have disabled comments and are only letting people Direct Message from the Ask. If you see a job that jumps out to you, you can message the poster directly and start a dialogue. Same on the reverse: if you're looking to hire and someone posts that they are looking for a job — message them!
This community is meant for anyone that knows of open roles, and anyone actively looking for work during this trying time.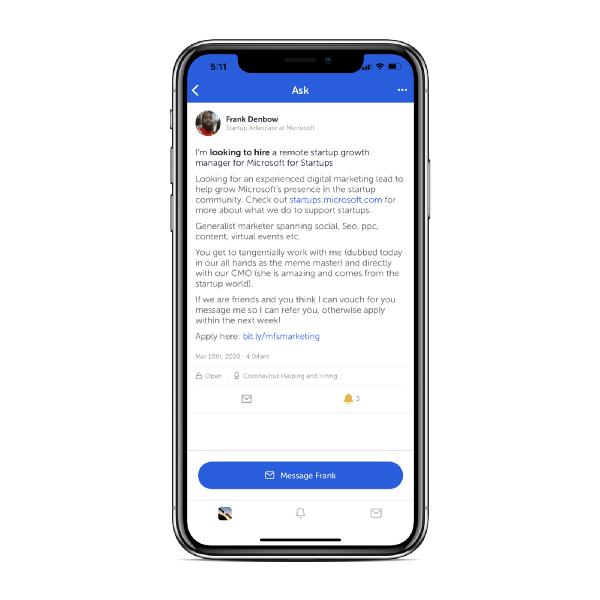 We're hoping that even if we can help one person lessen their financial burden from the epidemic, it will have been worth it to offer this publicly before we were ready to.
If you want to join — use this link: https://link.upstreamapp.com/e1gbX46ZV4 (use code e1gbX46ZV4 if prompted).
Feel free to share with any friends that might want to join.
You can also email us direct at [email protected].
---