Introducing Upstream
We are happy to share with the world what we are building at Upstream — the best way to grow your professional network. Over the last few…

We are happy to share with the world what we are building at Upstream — the best way to grow your professional network. Over the last few months in beta we have been building new communities, onboarding existing ones, and connecting professionals to give and receive help.
How We Got Here
Working with my co-founder Michael and our incredible team (Zhanna and Kazi) for the past 4+ years (together we sold our previous company SocialRank) made it clear that these are the people with whom I want to embark on building something new. We had two rules for our next adventure:
1. Do not build on top of third-party platforms. After our previous experience having our roadmap controlled by others' API decisions, we wanted to control our own destiny.
2. Build something we want to do for the rest of our lives. We want to work on something that would have a positive impact and of which we can be proud.
After lots of exploring, it turns out that something I have been doing my entire career — connecting professionals and helping people, could be productized. The product is what we now call Upstream.
What Is Upstream?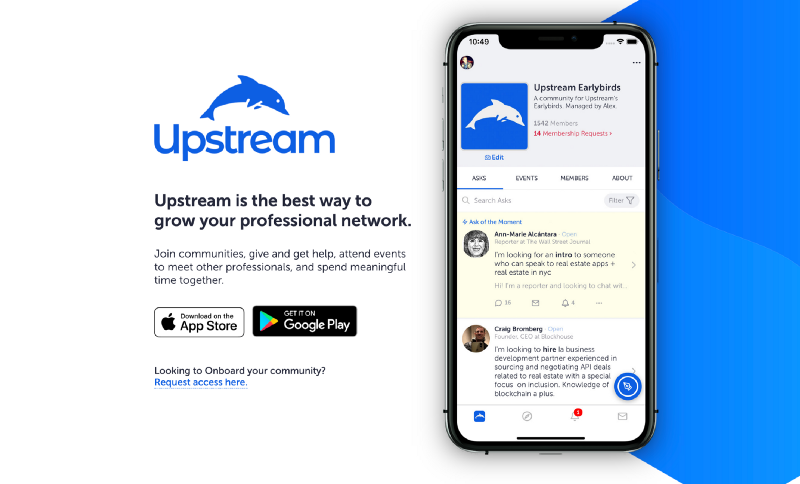 Upstream is the digital place that embodies the best parts of our IRL professional social lives. It's the cocktail hour at a meet up; it's the green room before sitting on a panel; it's the networking dinner after a long day behind a computer; it's the coffee chat set up by a friend who knows something exciting and mutually beneficial will arise once you meet; it's access to a community of professional people who are eager to help one another.
We started by building the best professional groups product possible (i.e. what LinkedIn Groups would be if it was started today).
We saw that most new professional communities weren't being built on LinkedIn Groups, but rather Slack, WhatsApp, Telegram and other popular messaging tools. While all of those products are great, they are built for communication, not community. We spent a lot of time in the communities on these platforms and noticed the most valuable thing being posted was something we started calling Professional Asks. Things like "I'm looking for a part-time CFO," "I'm looking for an intro to someone at Nike," etc.
What started out as a way to give and get help evolved into a cross device platform to manage a professional community. Many of our groups migrated from WhatsApp and FB groups because they want to spend time together 1:1, have a structured way to ask questions and give answers, and share their contact information. Now, more than ever, networking needs to be efficient, timely, and actionable.
By August / September of 2019, we knew we were onto something. We were about 200–300 members strong and started to see amazing things happen within Upstream. Members were getting jobs, raising money for their startups, and making friends online and offline. At this point, we knew this side project was a big idea, so we focused on selling off SocialRank so we could target all our efforts on Upstream. We went all in on Upstream in January of 2020.
Early this year, we began onboarding a few private communities onto Upstream to see if we could replicate what was happening in the first community (now called Upstream Earlybirds). At the same time, Covid was rearing its devastating head and the world began to change. As Covid spread across the US, we immediately prioritized a product we had planned to build called Upstream Events.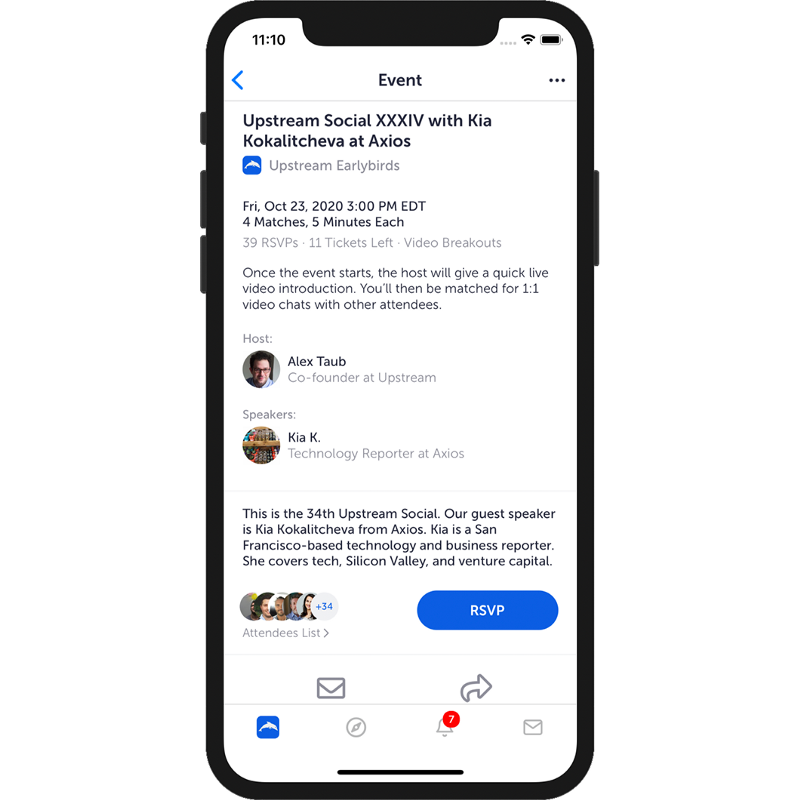 Upstream is the best use of 20 minutes while working from home. You can RSVP and attend an event, hear from someone smart in a sector you care about, and then be matched with a few people for five minute 1:1 video chats with people who share interests with you. Your network exponentially expands with high quality connections, in less time than it takes for an in-person coffee chat.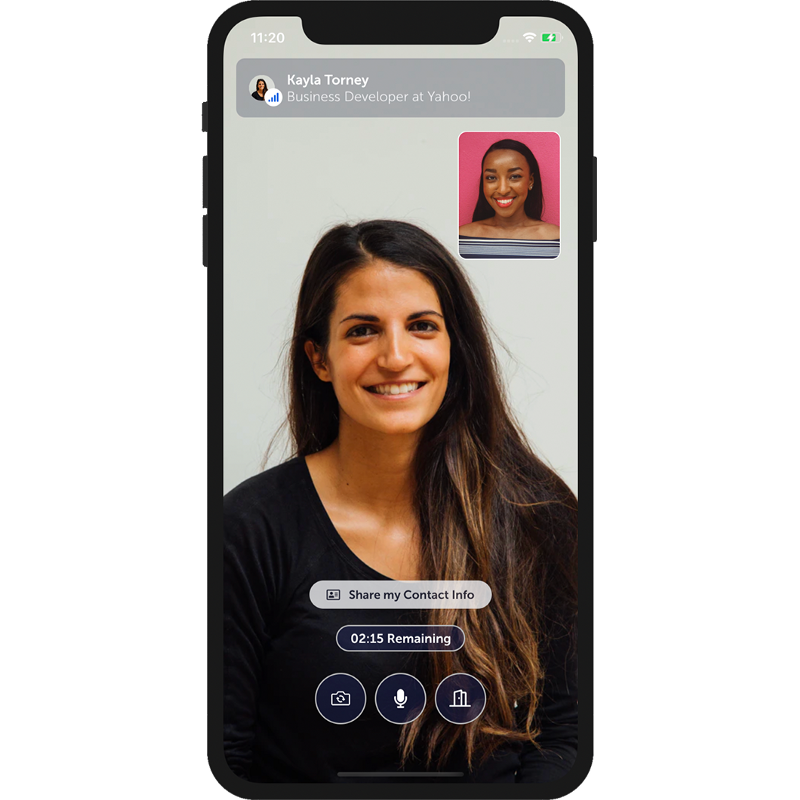 We know Upstream is working because after only a few months we have found that 72% of people who come to an event, go to another. Most people on the platform go to 3–4 events per month, and some have been to 30+ events! We just had our first person attend their 100th one this past week (which will begin by creating a special 100 Event Club sweatshirt for those that reach 100 events).
Upstream is the only virtual events product that really cares about community (as the communities persist and snowball from one event to the next), and where professionals can actually network and meet people. Which is what many people really want from events!
Upstream Events
Upstream Events opened the door for new communities to onboard. We have expanded from five communities to 40 communities within the past two months. The communities range from industry-specific like the Healthcare Community and Sports Business Community to functional-expertise driven like the Active Investor Community and the HR Community.
Upstream Events is our first sticky product and it is helping drive is a big piece behind the high engagement we are seeing right now.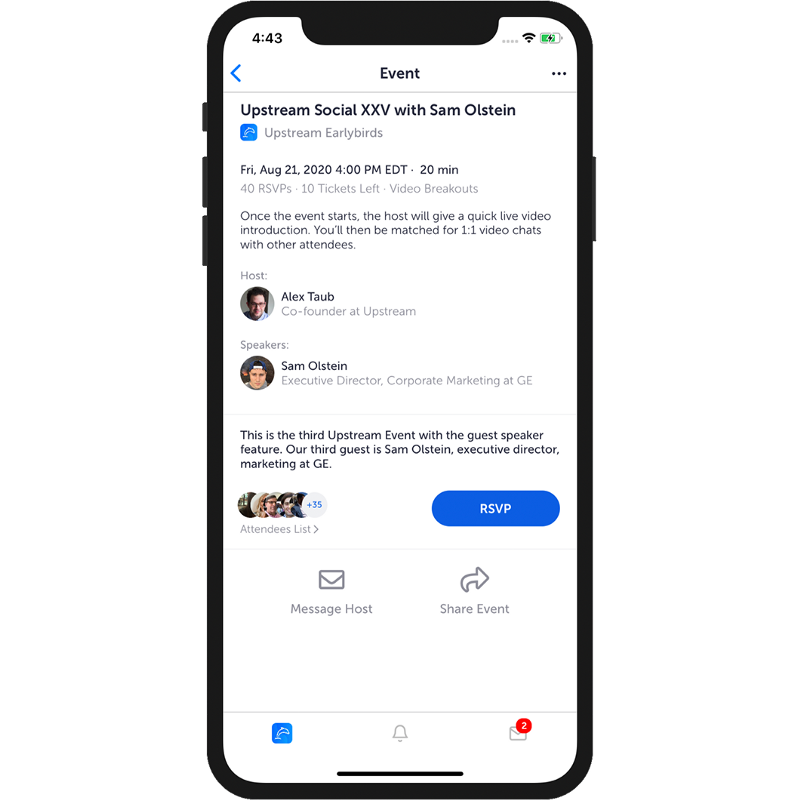 Guest Speaker
This August, we released a new feature called Guest Speaker, which kicks off an event with a moderated Q&A between the event host and their choice of speakers (before the 1:1 breakouts happen). We've had fantastic guest speakers ranging from Taylor Lorenz at the New York Times and Christian Tom at the Biden Campaign, to Kirsten Green from Forerunner Ventures and Alex Konrad from Forbes.
What We Are Releasing Today
We have just released three key products that will move us closer to becoming the one stop shop for your professional social life.
Community Gating + Discovery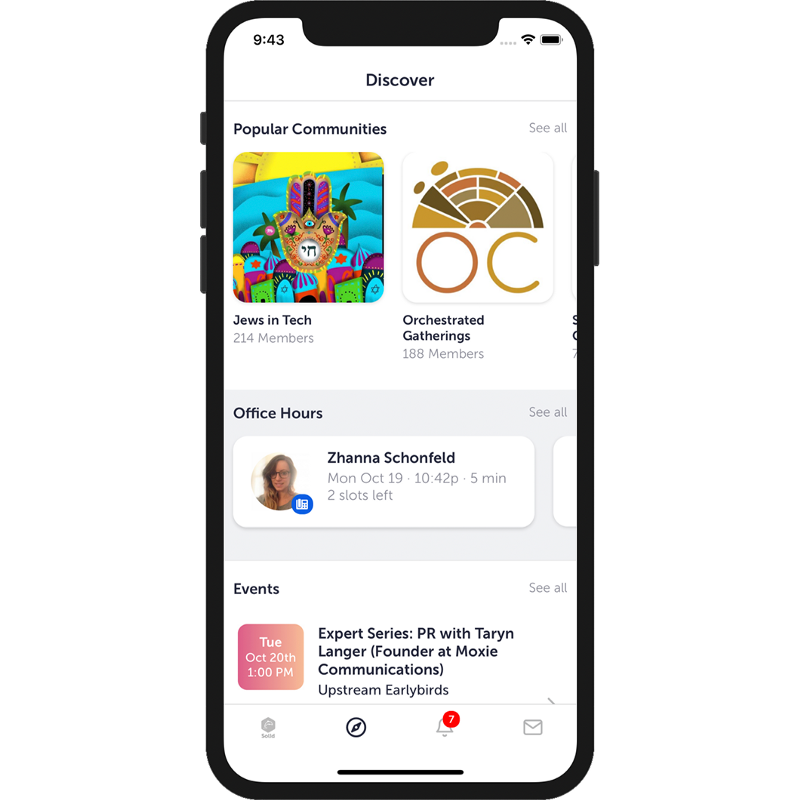 While they are independent features, Community Gating and Discovery are very much linked in our eyes. Before now, every community admin had a unique link to share when inviting people. Similar to an unlisted YouTube video, you can't find it anywhere through search, but if someone sends the link to you, you can watch the video. Same with early Upstream communities. While great to keep the quality of the community high, it forced admins to guard their community and do most of the heavy lifting on finding new members.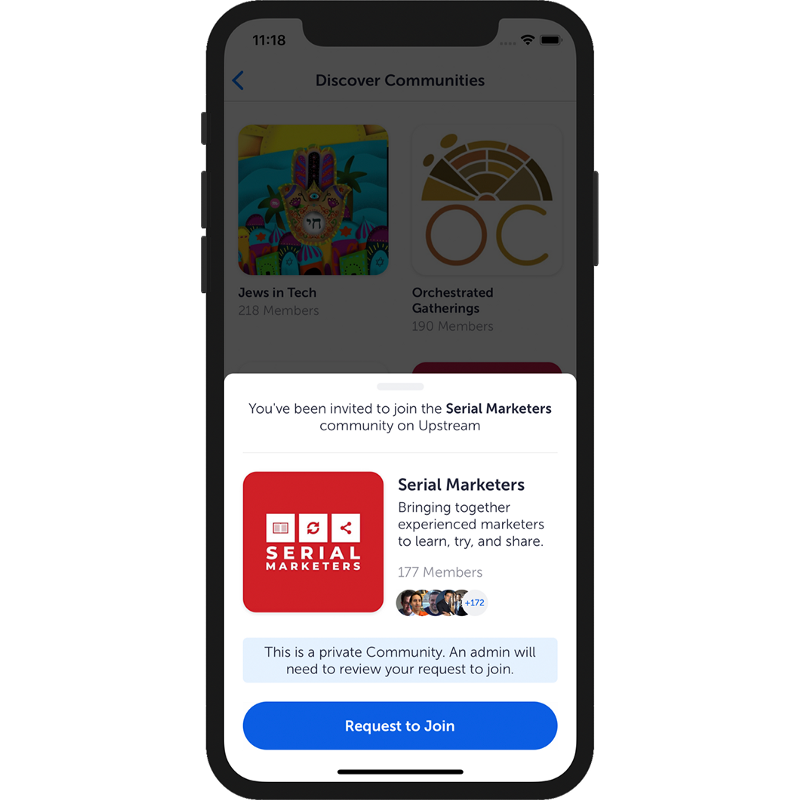 The first feature we are releasing is the ability to "Gate" your community and Approve/Reject new members. This way, admins can be as public as they want with their community without fear of it getting overrun with members that don't meet the community's requirements.
The other component of the release is a Community Discovery section in the app. This is found on the bottom discovery tab. This feature gives users the ability to find communities/events on Upstream and request to join them.
Office Hours Product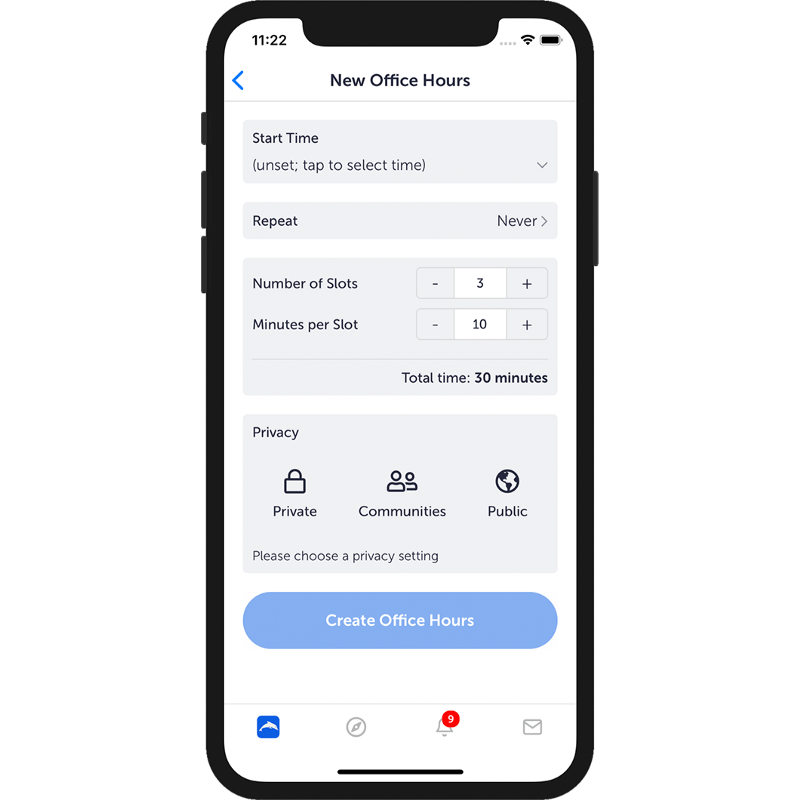 We are also incredibly excited to announce a new Event format on Upstream called Office Hours. Before today, the only Event format was 1:1 video matching. That Event type needs to be created by a community admin and is tied to that specific community. Members of that community can only attend events that community admins create.
Now today, with the new format of Office Hours, Members will be able to create an Event. It will be tied to the individual, not the community, and will empower the individuals within each community.
Before jumping into how Office Hours will work, I want to share a quick story. On May 11, 2011 Michael and I met on one of the first ever virtual office hours on Ohours.org. The rest is history but Office Hours, as a concept, has always had a place in our hearts. Launching this feature brings us full circle. We know how powerful serendipitous meetings can be.
So How Does It Work?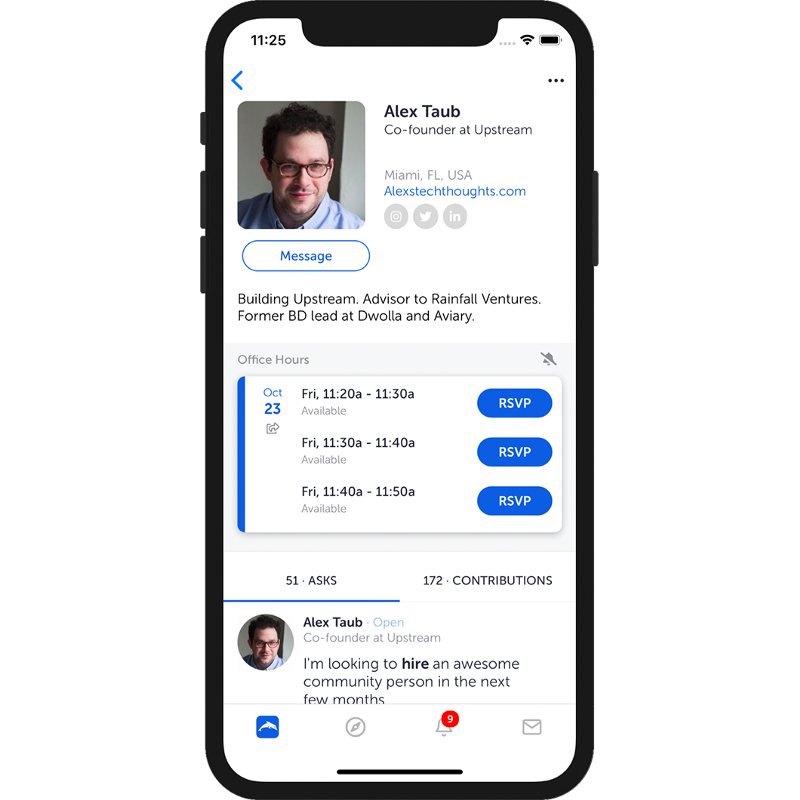 Any Upstream user will be able to create an Event called Office Hours. You can choose the Date and Time, its recurrence, the number of slots for sign-ups, the length in minutes of each slot, and your preferences for privacy and distribution. We like to internally call this Full Stack Office Hours, because you can do everything from schedule, distribute, and host, all on Upstream.
Appreciating the potential of the Office Hours feature is easiest done with a hypothetical story. Let's say you are the CMO of a large company and you want to give your people the opportunity to meet 1:1. The thought of coordinating the individual scheduling of ten minute blocks using your Outlook calendar and email is not attractive. But with Upstream, you are able to choose the 30min block you want to offer and how long you want the sessions to be. You decide you want to run your office hours every other Friday at 2pm ET for the rest of the year. The event is built and able to be shared seamlessly to whoever you choose to offer the Office Hours to.
You can decide if you want to make it Private/Unlisted, where you will get a unique URL you can include in your email signature or share as you see fit. You can list it in the communities you are in (just one community, or however many you are a member in). Or you can make it Public and have it be discoverable on Upstream.
There are 30+ people that have already scheduled Office Hours (!!!open these links on your phone!!!):
Naveen Selvadurai (former co-founder at foursquare, partner at expa)
Christy Coco (Multi-Hyphenate Artist)
Trace Cohen (Managing Director at NYVP)
Camila De Souza (Partner at Andreessen Horowitz)
Meagan Loyst (VC at Lerer Hippeau)
Alexis Teixeira (Deputy Chief of Staff at Carta)
Sarah Wood (Analyst at Goldman Sachs)
Nicholas Palmer (Equity Sales Trading at Goldman Sachs)
Eric Friedman (Fractional COO — BuildingTheMachine.com)
Alex Mahedy (Founder at Pager)
Eric Reiner (Managing Director at Vine Capital)
Joe Teplow (Founder at Good Today / Rebel — acquired by Salesforce)
Caroline Klatt (Chief Innovation Officer at Stagwell Group)
Zach Levin (Founder at Law by Levin)
Mike Gelb (Host of The Consumer VC Podcast)
Mark Davis (Managing Partner at Interplay Ventures)
Jake Wayne (Investor at Torch Capital)
Ryan Dawidjan (Founder at Riff)
Jackson Bubala (VC at Founder Equity)
Zachary Casler (Founder/CEO of The Round)
Ari Greenberg (Head of Marketing Partnerships at Back Market)
Karin Klein (Founding Partner at Bloomberg Beta)
Sam Olstein (Executive Director, Corporate Marketing at GE)
David Berkowitz (Founder at Serial Marketers)
Greg Baroth (Founder of Greg Baroth Consulting)
Danielle Mantich (Private Markets at JPMorgan)
Cesar Kuriyama (CEO at 1 Second Everyday)
Jasmine Neal (Co-founder at Tune)
Shai Goldman (Managing Director at SVB)
Adam Kronengold (Chief Digital Officer at Authentic Brands Group)
Ellen DaSilva (Director, Business Development at Hims)
Brianna Hann (Marketing Lead at Squarespace)
Alex Taub (Co-founder of Upstream)
Elaine Zelby (Principal, Director of Growth at SignalFire)
David Rosenberg (Director of Strategy at Snap / Bitmoji)
Daniel Freedman (CEO of BurnAlong)
Erik Nordlander (General Partner at GV)
Caroline Hale (Director of Venture Platform at First Republic Bank)
Nate Westheimer (Head of Product at Amazon Photos)
Landon Ainge (Managing Director at Assure)
Adam Liebman (Head of Seals at Melio)
Jesse Morris (General Partner at Human Ventures)
Jonathan Abrams (Co-founder and General Partner at 8-Bit Capital)
Chris Ackermann (Director, Partner Engineering at Facebook)
Samara Gordon (VC at Hyperplane VC)
Paul Strachman (Partner at Red Sea Ventures)
Anthony Perez (Director, Partnership Marketing at Miami Heat)
Taylor Lorenz (Technology Reporter at The New York Times)
Megan O'Connor (EIR at Kaplan)
Mike MacCombie (Director of Platform at ffVC)
Bryan Rosenblatt (Principal at Craft Ventures)
Daniel Brusilovsky (Director, Consumer Products & Tech at Golden State Warriors)
Chaim Haas (Head of Innovation Communication at Bloomberg)
Where We Are Going With It
We have big plans for Upstream. It feels like the only limitations are the hours in the day we can spend working on it! We recently closed a pre-seed round of funding from 8-Bit Capital, Human Ventures, Basement Fund, NYVP, and a ton of amazing angels to continue building the platform and layering applications on top of it.
Upstream of the future will offer a variety of live event formats, additional in-app asynchronous experiences (building off the success of Asks), and features that can provide utility to your network building and connection strengthening that do not require belonging to a community. We imagine a future when professionals come to Upstream for an event or Ask, and stay for the compelling opportunities that make Upstream an energizing and beneficial experience for them.
To join Upstream, you can download the app in the Apple App Store (link) as well as the Google Play Store (link). You'll be able to create an account, request access to join communities, and host your own Office Hours. We can't wait to see how Upstream will open up the world for you. It's only an Ask, chat, or connection away!
If you would like to bring your community over (or start one from scratch) please fill out the form on Upstreamapp.com.
If you want to reach out to us for any reason, contact us at [email protected]
---