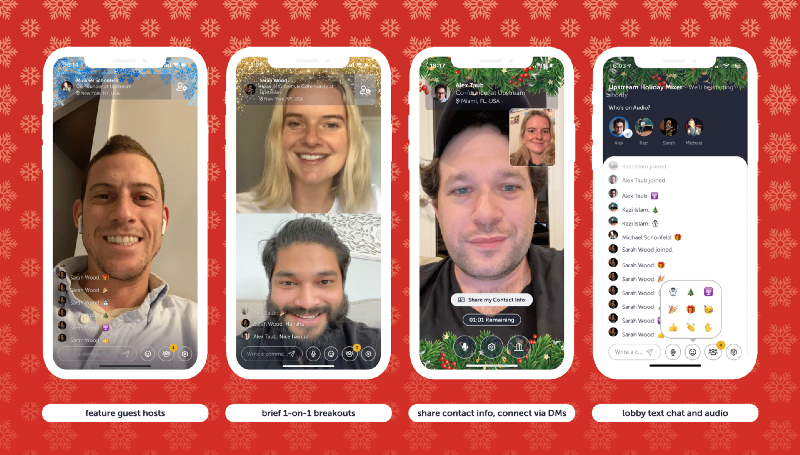 Cancelled Your Company Holiday Party? Host a Virtual Holiday Mixer with Upstream
"Dangerously festive" has a new meaning this year. In March, we never thought to look out to December for canceling events, but here we…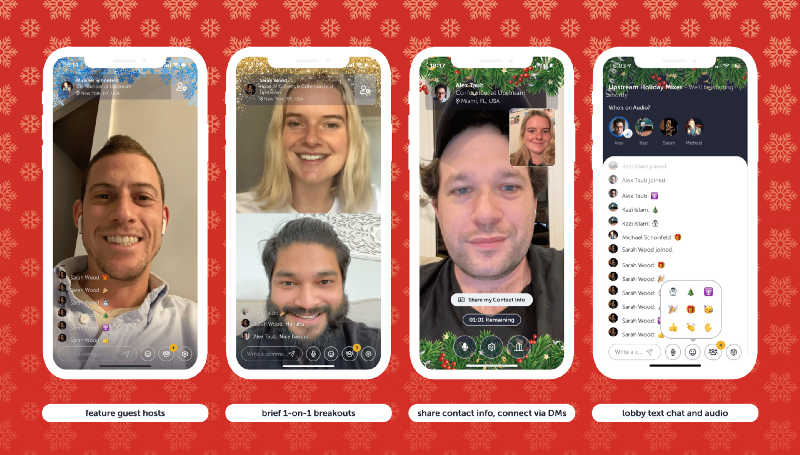 "Dangerously festive" has a new meaning this year. In March, we never thought to look out to December for canceling events, but here we are…
A few weeks ago, we realized that all companies and groups will need to rethink their holiday parties this year. These crowded (and definitely not COVID-proof!) annual bashes will be tabled for next year. At Upstream, we believe that we can still celebrate… it just needs to look a bit different.
Introducing the Upstream Virtual Holiday Mixer.
Between the two options of either 1) cancelling your holiday party entirely, and 2) wrangling your team into an exhausting hour-long Zoom with cumbersome breakouts, we present a third option.
The Upstream Virtual Holiday Mixer is a 20–30 minute event with a short intro from the host and then seamless break outs into 1x1 chats with 4 people for 5 minutes each. It's an adaptation of our standard networking events product that has won over our users as the most energizing and efficient way to meet new people without having to leave the house.
Today, we are delighted to release this event format and begin setting up virtual holiday parties for your companies, teams, and groups.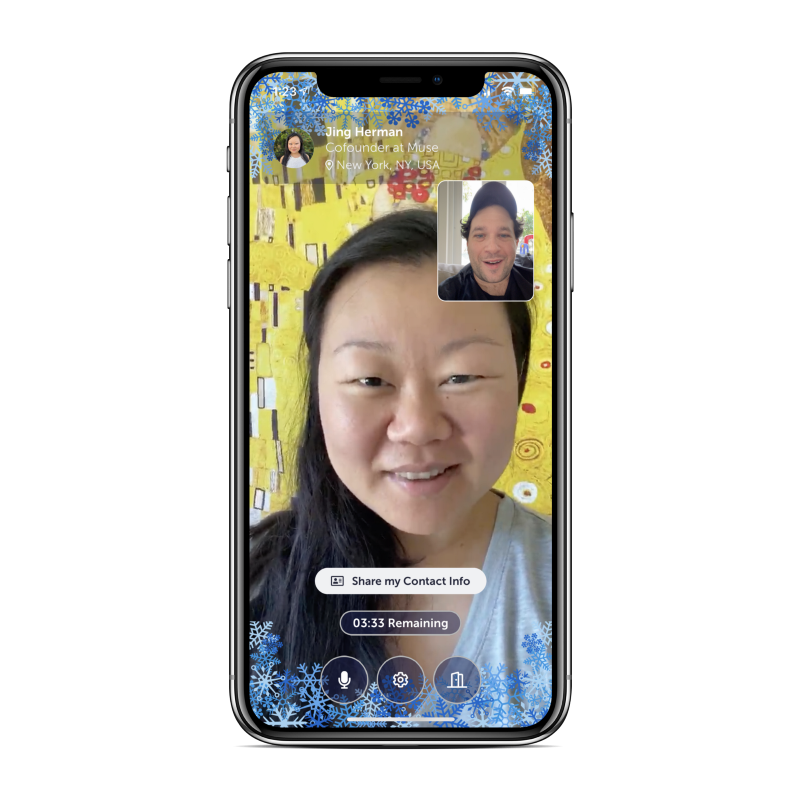 What's in store at an Upstream Virtual Holiday Mixer?
We have worked to infuse festivity into each stage of the event.
Before the event begins, event attendees gather in the Audio lobby where the host can choose between holiday tunes to play as DJ. During the event kick-off with the host, you will find holiday emojis and festive backgrounds. When the event moves into the 1x1 breakouts, you will find holiday photo borders as you chat — perfect for a screenshot (the 2020 take on a photobooth).
We recommend all members of your team stay for the event breakouts as the algorithm will randomly match you. It's a great way to catch up with someone you maybe haven't been working with directly over the past year or are long overdue for a catch up.
We'll see what other fun features we can add before the parties begin (we are thinking a selfie taker, suggested questions, and a few other fun things). If you have any suggestions — send it our way!
How to host an Upstream Virtual Holiday Mixer?
With the release of this Holiday Mixer format, we are welcoming companies and groups onto Upstream to create a community to use for the event (and into the future). You can fill out the form here to get set up.
All we need are the three things below:
Name of the community (or company)
One line sentence about the community (or company)
Square Logo (for the icon)
Once you submit this info on the form, we will make the community, invite you as the admin, and teach you how to use it!
We can't wait to welcome you and your colleagues, friends, and families to Upstream. The holidays may look different, but joy, connection, and celebration are not cancelled. We at Upstream could not be more excited to help you celebrate safely and seamlessly with the Upstream Virtual Holiday Mixer.
If you have any questions or want to see a demo — feel free to email us at [email protected].
---